ADA COMPLIANCE CHECKLIST
.
MADE FOR DISABILITY & ACCESSIBILITY COORDINATORS.
Trusted By Schools 44,192 Times In 3 Years: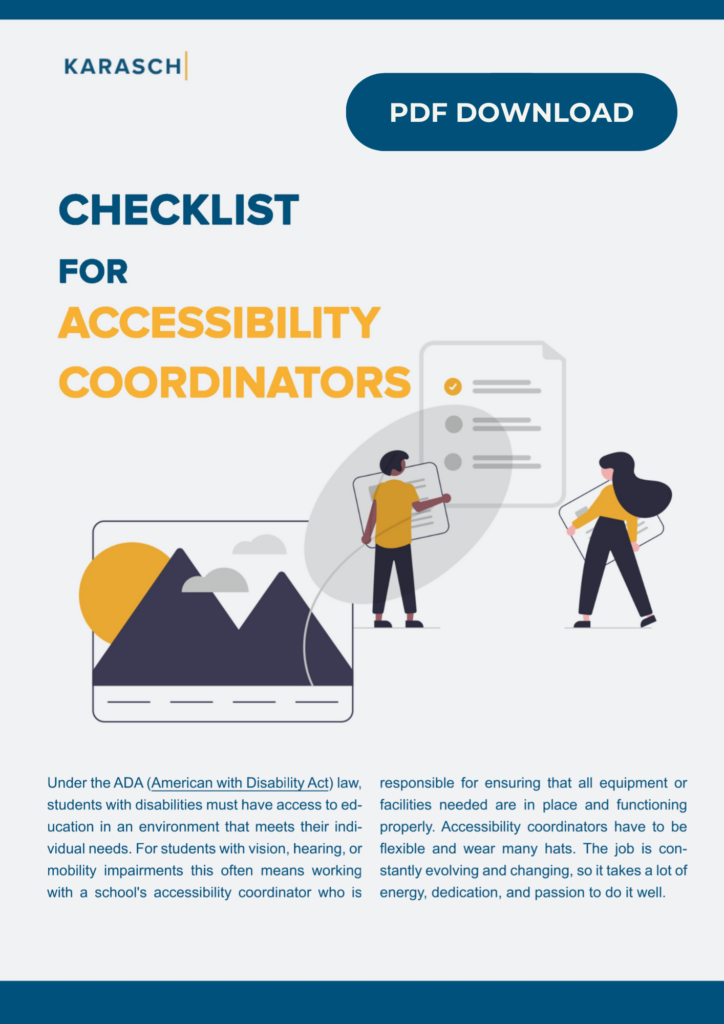 They assisted in our captioning for our Online Open House. It was fantastic. We were very pleased. Even when things did not go as planned, Kelsey and the captioner did an awesome job of making sure we had the best experience possible.
Very satisfied with your services.
Everything gets done in timely and professional manner. Thank you.
Fall 2020 was unprecedented for sure. Brittany was wonderful in filling several last minute needs that we had come up. Although we did not use R-CART services consistently like we have in the past, her hard work to meet our needs is very much appreciated. Thank you!
My experience with Karasch this fall was wonderful, as always. Brittany and Kayla are always quick to respond to questions and have helped me out on more than one occasion when I either forgot or failed to reserve captioning services and contacted them in a panic."
Excellent, they are very helpful and willing to accommodate. We appreciate the help they provide."
Karasch moved quickly and efficiently to get services in place. One services were set up I didn't need to worry about a thing. Everything went smoothly. Communication was excellent, and the student was very satisfied with the services.
Brittany and Kayla have been very helpful and flexible with figuring out the best game plan for Karasch & ASLIS to partner to provide captioning services. I appreciate their knowledge, professionalism, and just their work in general!